And hello again friends!
It's good to be back to blogging. I took a short break for the holidays – and after feeling a little burned out after 12 Days : 12 Ways : 2 Buy Local.  The research, the writing, the shopping.  It took a lot out of me.
Don't get me wrong, I really enjoyed the experience of getting to know many of Philadelphia's best locally owned businesses.  By the end of it, I just needed a little breather.  Now I'm back, feeling refreshed and ready to kick off the New Year.
But before I look forward to 2011, I want take one long last look around at 2010.  The year we said goodbye to the South and planted ourselves in Philadelphia for a long haul.  2010 was what I can only deem a "learning year" for me.  Every year is, but 2010 stretched my capacity more than most.  I learned a lot about myself, my ever-evolving personal interests, my emotional stamina (in some cases, lack thereof), my limitations and my talents.
After the chaos and mental drainage that comes with moving cross-country in less than six weeks, these final days of 2010 are starting to feel somewhat "settled".  We've put down roots. We're making new friends. We're getting to know our new city.  Discovering all that Philadelphia has to offer residents, tourists and resident-tourists (like me) has been such an adventure and I'm so thrilled it will continue in 2011.  We've done a lot of wonderful things so far (Please Touch Museum, Independence Seaport Museum, Washington Crossing Reenactment, and more), but there is much still left to see and do.  (I'm so excited about Fourth of July in Philly.)
Anyway, reflecting the big changes of 2010, here are 10 things I learned this year:
No amount of Ajax, Clorox, Windex or Blistex can get 25 years worth of grime off the vinyl tile floor at The 502 (our temporary new home).
Living in a house that you can't possibly get clean is really good for your social life… until winter hits.
Southern hospitality does exist North of the Mason-Dixon line. I have found it everywhere from Narberth to the South Philly. Thank you kind strangers for proving stereotypes don't always ring true.
It is possible to feel at home in a neighborhood you've only lived in for three months (even if it is in the suburbs – and even in spite of the items at the top of this list).
The men in my life, the newspaper man and soldier boy, may not be true outdoorsmen, but they know how to rough it.  Those early days at The 502, pre-furniture-delivery, were pretty bleak.  Yet, these guys never complained!
Newfound friendships can have as profound an effect on you as the old ones.   Even if their 'facetime' is interrupted by a long distance relocation, they can still be a stable kickstand when you need it.   (You know who you are!)
There's not enough money in the budget to satisfy my desire to "see and do" in Philadelphia.  Must get to work on changing that in 2011!
When my mother's voice comes out of my mouth it's not necessarily a reason to cringe anymore.  (Sorry Sarge, I'm hearing you a lot these days thanks to Miss Sass!)
Learning how far your family will go to help you is humbling.  No amount of thanks can show them the volume of gratitude I have to them (and for them).
I'm going to like it in Philadelphia.  I already do.
That's really just the tip of the iceberg. I could probably do 20 more posts of sorting things I learned by category – Parenting, Moving, Traveling, Renting, Wifing, Friendship, Philadelphia, Winter Fashion, etc. etc. etc.  Heck, I may have just drafted my editorial calendar for the next month.  What did you learn in 2010?
And now welcome 2011! I hope you're arriving health, happiness and prosperity to everyone who follows The Philadelphia Outsider!  Happy New Year!
And the Grinch, with his grinch-feet ice-cold in the snow,
Stood puzzling and puzzling: "How could it be so?"
"It came with out ribbons! It came without tags!"
"It came without packages, boxes or bags!"
And he puzzled three hours, till his puzzler was sore.
Then the Grinch thought of something he hadn't before!
"Maybe Christmas," he thought, "doesn't come from a store." "Maybe Christmas…perhaps…means a little bit more!"
And what happened then? Well…in Whoville they say,
That the Grinch's small heart Grew three sizes that day!
And the minute his heart didn't feel quite so tight,
He whizzed with his load through the bright morning light,
And he brought back the toys! And the food for the feast!
And he, HE HIMSELF! The Grinch carved the roast beast!
The Grinch Who Stole Christmas by Dr. Suess is one of my all-time favorite Christmas stories.  I try to make sure to watch it with the kids each year.  Not only for entertainment, but as a reminder that spirit of giving is so very important in our lives.  And I'm not ashamed to admit to you that I get a little choked up EVERY time his tiny heart bursts out of the heart measuring device.  Sometimes I find it necessary to leave the room.  (I blame this overabundance of emotion on becoming a mother).
Since many of my recent posts have been somewhat "heavy" on the shopping aspect of the holidays, I thought I would take a moment to honor the season and say Happy Christmas dear friends – near and far.  Many blessings to you and your family!
And now, this Philadelphia Outsider is going to take some time to count her Christmas blessings and hope that her heart grows three sizes, too.
I'll see you next week!
A few weeks ago (in the middle of the 12 Days : 12 Ways : 2 Buy Local series), US Airways Magazine named Philadelphia the #1 Best City for Getting Into the Holiday Spirit.
I couldn't agree more (though admittedly I've only been in one of the other top 15 cities during the holidays – London, which was indeed beautifully festive).
The joyful happenings around town are so plentiful, I'm left thinking, "Where can I get that cloning technology so I can go to everything. Experience everything."
In the past month we've done our best to participate in the city-wide celebration. We endured a very cold lighting of the City Hall Christmas Tree (and consequently Christmas Village). The Narberth Dickens Festival, where the streets were transformed into 18th century London, was such a fun way to spend a winter afternoon with family.  And dear old Santa Claus at Center City Macy's was worth the wait and oh so sweet to my little ones.
Sadly, our timing was off to see the light show in the Grand Court, but we might make it down there one last time before the lights dim for the season.
Speaking of little ones, my kids have delighted in several quintessential Christmas-in-Philly experiences, including the Reading Terminal Market Holiday Railroad, the Comcast Holiday Spectacular show at Comcast Center and countless other opportunities to celebrate this special time of year.
Yes. I'm aware these kinds of things happen in cities and towns all over America, but this year for me … I don't know … they hold a unique merriment. Possibly because it's all new to me and I'm eager to establish our own uniquely-Philadelphia family traditions.
Everyday I cringe at the possibility of missing the next interesting event. Last weekend's big misses were the Running of the Santas (and I know the boy would have loved seeing that) and the Independence Seaport Museum Lighted Boat Parade.  Much as I would have liked to go, my family just needed the down time.  (Really, I needed it!)
But I'm making a list. And next year, I'll check it twice to make sure we get to see all the things we missed this time around.
Who knows, I may try to pack in a few more festivities in these last days of December.  Philly Parents Circle just published a list of holiday happenings we might have to do before year-end.
Where will I find you celebrating?
It's been a few weeks since I posted my Monday Minutiae. 12 Days : 12 Ways : 2 Buy Local was keeping me busy and so has the month of December.  Somehow I actually misplaced an entire week.
But don't worry. There is still plenty of minutiae to share with you. In fact, here's today's sample. It's simple, but it's taking up space in my life and my house.
This empty box and its 20 so-odd friends are hanging around like the moving party at The 502 never ended. I can't kick them to the curb because I'm going to need them again in 9 months. That's right. We are already four months into our lease at The 502.
Is it possible to look forward to leaving and dread it all at once?
Whatever the answer, that day is fast approaching. And these boxes will no longer be unwelcomed guests.
In the meantime, there's barely room to store them in an out of the way place… because there is no out of the way place at The 502.
Aloha! Today is the last my 12 day journey to buy local for the holidays in Philadelphia. If I've learned one thing from writing this blog series, 12 Days : 12 Ways : 2 Buy Local, it's that Philly is full of entrepreneurial spirit and support.
Through the recommendations of new friends and my own personal 'research' (or rather shopping), I've discovered an overabundance of great merchants I can frequent for years to come … that is, assuming their doors remain open. I intend to contribute in the best way I know how, by shopping.  Will you?  (Don't worry newspaperman, I'll stay on budget).
And now for the 12 Days : 12 Ways : 2 Buy Local : #12
It may be cold outside but you can still conjure the sensation of summer when you sign up for Polynesian dance lessons at Aloha Style in Narberth. They teach beginner, intermediate and advanced level classes for all ages –kids to adults (they do suggest starting no younger than age 5.) And the classes are extremely affordable. Look here for a list of winter classes. What a fun gift for your bff! I wish mine lived closer!
Locally owned and operated, you can't help but smile when you walk through the front door and are transported to the islands.  Aloha Style is a great destination for island-inspired gifts. Sarongs, leis, muumuus, hula implements and pa'u skirts are available as well as tropical themed gifts including jewelry, clothing and home décor.
At Aloha Style you'll know that Christmas will be green and bright!  Mele Kelikimaka!
105 Forrest Avenue
Narberth, PA 19072
610.667.HULA
*Images courtesy of Aloha Style
1 block + 3 restaurants + 3 boutiques = 1 sweet destination to finish up your local holiday shopping.
I'm talking about the bustling block of South 13th Street between Chestnut and Sansom.  That's where you'll find a world of gift ideas for those last-minute gifts.
Admittedly, I don't know much about the history of this destination spot, but it seems local entrepreneurs Chef Marcie Turney and Valerie Safran, the "brains behind the block", have adopted it for their very own.  Hence their mantra "We Love 13th Street".  They even have a blog dedicated to it!
The transformation of South 13th Street began when the pair unlocked the doors at Open House eight years ago.  A housewares, furniture and gift shop, Open House offers an eclectic mix of merchandise including fun baby gifts, bath and body items, barware and more.  I guess you could say the success of Open House launched the success of South 13th Street because Turney and Safran opened more doors in the years that followed.
Two shops in one – Verde and Marcie Blaine Chocolates is just one of their ventures.  Stop in Verde for flowers or home décor accessories and leave with artisanal chocolates made with fresh ingredients from the farms of Pennsylvania.  These chocolates are truly something special.  Handcrafted right in the Verde shop on South 13th Street, these delicious treats are inspired by the flavors served in Chef Turney's restaurants just a few steps away.
And speaking of restaurants, you won't be at a loss for a great (and convenient) meal while you're shopping.  Pop in Lolita for a modern take on Mexican or Bindi for some wonderful flavors of India.  And if you're in the mood for Mediterranean, you'll want to go to Barbuzzo. Again, these eateries are part of the Turney/Safran legacy and I'm anxious to try them all!
In case you can't decide on a present for that troublesome friend or family member (I never know what to give my mother!), the restaurants and boutiques offer gift certificates.
Turney and Safran also sell "We Heart Philly" merchandise online.  I'm coveting this "I Heart Philly" t-shirt after seeing this t-shirt on uwishunu.com.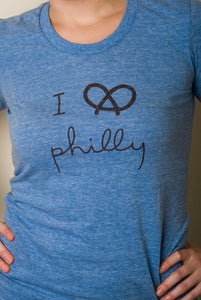 Looking for something truly original to give this Christmas? Then I have one word for you… Etsy.
If you haven't spent any time browsing the site, you should.  It's an amazing online resource for handmade and originally designed goods. Handcrafted clothing, jewelry, paintings, photography, prints, housewares and so much more can be found on Etsy.  You can find wonderful gifts or be inspired to create something yourself. In keeping with my 12 Days : 12 Ways : 2 Buy Local series, I went on the Etsy website and did a simple search using the term Philadelphia.
The first thing that popped up was this really interesting necklace of the Philadelphia city skyline made by CrossedOutCreations right here in Philadelphia.
This cute doggy rain coat is made from an "upcycled" umbrella.
RecycleZychal
, who is based in Philly, is the merchant to look for if you want one. There are several designs to choose from in
RecycleZychal's Etsy shop
.
And I've had my eye on this teacup from locally-based TeaspoonsandPetals ever since I discovered it a couple of weeks ago. Each cup she carries feature a sweet tea-related haiku.
Some other ideas from the Etsy Philadelphia search include Phillies earrings, Eagles blankets, aprons and vintage Philadelphia postcards… so you can see there is a wide selection of locally-oriented gifts by locally-based merchants.
I've already done the search for you right HERE!  Go on. Give Etsy a try!